Nursery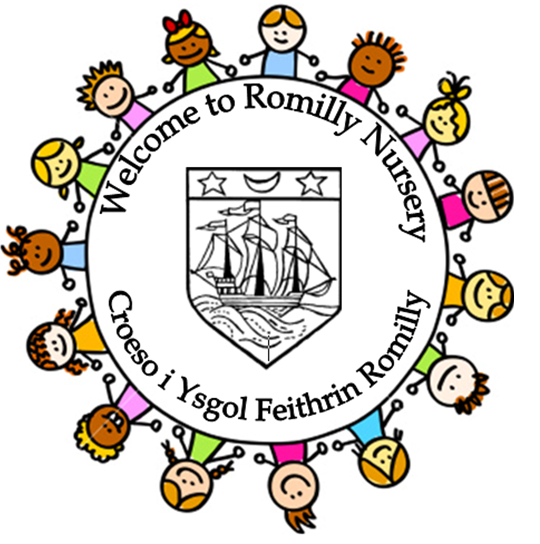 'At Romilly Nursery, we aim to provide a happy, safe and secure environment that enables our children to reach their potential whilst learning to work and play together.'
Our Vision for Romilly School
During their time at our school, children will be happy, confident and excited in their learning.
We will all work together to make sure that children develop values, skills and knowledge which will prepare them for the rest of their learning journey.
Useful information
Our Staff
Miss Gould - Class Teacher (Teaching and Learning Responsibility)
Ms Carney- Class Teacher
Mrs Svendson - Learning Support Assistant
Mrs Docherty/ Mrs Payne - Learning Support Assistant
School information
Address: Romilly Primary School, Romilly Road, Barry, CF62 6LF
Phone number: 01446 736934
Email address: romillyps@valeofglamorgan.gov.uk
Nursery Twitter: @romillypsnurs
Nursery times
Morning session:
Children should arrive between 8.50am and 9.00am. They may then be collected at 11.30am. Afternoon session:
Children should arrive between 12.50pm and 1.00pm. They may then be collected at 3.30pm.
We ask that an adult who is known to us collects your child. If for any reason someone unknown to us is collecting your child, we would ask that you notify us either in person, by phone or in writing. We ask all parents to provide us with a 'password' in order to ensure that the arrangements are as secure as possible. We never allow children to leave nursery with a stranger. If you are unavoidably delayed, nursery staff will stay with your child but we urge you to make every effort to be on time as it can be distressing for your child to see all the other children being collected and they are still waiting. Regular and punctual attendance will help your child to settle into nursery and set good habits for the future.
Please let us know by phone or in writing if your child is absent from nursery for whatever reason.
Welcome to Romilly Nursery
Croeso i Ysgol Feithrin Romilly
At Romilly Nursery, as throughout the school, we respect all members of our community with children viewing diversity in ability, background and culture as a positive, enriching experience. We aim to provide a happy, safe and secure environment that enables our children to reach their full potential whilst learning to work and play together.
The children experience the curriculum through structured play activities, which are planned by the Early Years staff using both the inside and outside classrooms. Parents are viewed as first teachers and we would like your involvement and commitment to continue in their learning.
Sometimes children will be taught individually and at other times they will be taught in small or larger groups. We aim to keep you fully up to date with your child's progress while they are with us in Nursery. Records of your child's progress will be kept and shared with you during parent consultation meetings in the Autumn and Spring term and in an end of year report. If you wish to talk about your child's progress at any point in the year you are invited to make an appointment with your child's class teacher outside of teaching times.
Children in the Nursery are encouraged to take part in a variety of activities following on from their interests and discoveries. We strongly believe that children learn by doing and therefore give the children opportunities to gain first hand experiences through play and lots of practical activities. These activities take place in both the indoor and outdoor classroom.
We place great emphasis on developing the children's skills and understanding and encourage them to develop a positive attitude to their learning. We want the children to grow in confidence and independence. The children will be given opportunities to experience, explore and investigate new things to develop as individuals.
We place great importance on using the outdoor environment. The children will explore and investigate the outdoors through welly walks, Forest School activities and will play in the outdoor classroom every day. Outdoors the children feel free to explore, investigate and make sense of the world around them. They can feel the change in the weather, discover the natural world and develop their physical strength in unrestricted space.
By providing your child with an appropriate holistic, flexible curriculum, we aim to:-
• Cater for individual needs
Enhance positive attitudes towards learning

Address developing needs

Enable them to become lifelong learners
Help them to develop socially, emotionally, physically, intellectually, culturally, spiritually and morally.
Across the year the children will be engrossed in a range of themes and topics. We will be plan activities with the children across the six areas of learning and experiences in both the indoor and outdoor environment.
Language, Literacy and Communication
Mathematical and Numeracy
This will help them on their journey to become:
Ambitious, capable learners
Healthy, confident individuals
Enterprising, creative contributors
Ethically, informed citizens.
The Nursery Day
8.50-9.00am/ 12.50pm-1.00pm- Doors open
9.00-9.15am/ 1.00-1.15pm-Register and daily routines
9.15-10.05am/ 1.20-2.05pm-Pupils access focused activities, continuous & enhanced provision
10.05-10.35am/ 2.05-2.35pm- Group teaching time and snack
10.35-11.05am/ 2.35-3.05pm- Pupils access focused activities, continuous & enhanced provision
11.05-11.20am/ 3.05-3.20pm- Story and circle time
11.30am/ 3.30pm- Home time
Starting Nursery
We recognise that starting Nursery can be a nervous experience for children and parents alike. The children will be introduced their Nursery class and teachers through a 'phased start date'. On the day your child starts Nursery you are welcome to stay for a little while to help them settle in and go through your child's information booklet with you. We have found that fairly brief partings are generally the most successful at this stage and even if your child appears upset when you leave, he/she will generally settle quickly once their parent has left. We advise that you discretely leave your child while they are playing with the other children and adults.
Please help your child to understand that they will be coming to Nursery every day. Make it clear to your child that you will be leaving them with us for a short time but that you will be back soon. Always try to bring and collect your child in good time, as it can be very upsetting to be last to enter or leave nursery.
We must be informed of who will be collecting your child, especially if anyone other than a known friend or relative will be picking them up. Please do not be offended if we ask who you are, we must ensure the children's safety at all times. Thank you for your co-operation.
We ask for a contribution of £1.00 a week to go towards the cost of daily healthy snacks and ingredients for cooking activities. You can either pay for the term or in weekly instalments.
We will provide your child with their first book bag. Please make sure you write your child's name on the bag and bring it to school every day. We will use it to send home your child's pictures, artwork and letters.
Every Friday the children are able to choose a storybook to share at home from the lending library. Please make sure your child returns their past book.
Toileting
We expect the odd accident from time to time but please work with your child to ensure they are dry before starting Nursery. Children will be changed should an accident arise and we will encourage and support your child to be able to do this independently.
Nappies or pull-ups are not accepted in Nursery. Please make sure your child attends nursery wearing pants.
It's a good idea to make sure that your child is wearing clothes, which allow them to go to the toilet independently. Dungarees, trousers with belts and buttons are not advisable as the children can find these difficult to manage independently. We would suggest joggers or trousers with elasticated waistbands.
Medical information
Please keep us updated with any allergies/medication/special needs which your child may have.
Illness
If your child is unwell, please keep him/her at home for the sake of your child and the health and well being of other children. If your child is unwell during the session, we will contact you. Please make sure we have your correct details at all times.
Play and Learn Workshops
We run Play and Learn workshops at different times in year. During the Play and Learn workshops we share how we are supporting your child to develop their:
Language, literacy and communication skills
Personal & Social skills

through a wide range of activities and play opportunities.
The workshops run during the morning/afternoon session and are a great opportunity to spend some special time with your child while helping them learn.
More information will be provided once your child starts Nursery.
Home School Links
We very much believe that a partnership between parents and the Nursery will benefit your child. We therefore encourage links between home and Nursery in the following ways:
By sending home regular newsletters with information about the what is happening in Nursery

By inviting you into Nursery for concerts and special events

By running workshops
There are many ways you can help support child's learning in Nursery by:
Helping your child to become independent:
− Teaching them how to use the toilet and wash their hands on their own − Recognise their belongings
− Put their coat on
Singing nursery/number rhymes and songs

Practise taking turns and sharing

Sharing a story with your child

Exploring and investigating their environment (e.g. visit the beach or park)
Helping your child with home task on the Nursery newsletter
You can help us by
Bringing your child to school and collecting them on time.
Letting us know if someone different will be collecting your child from Nursery.
Letting us know if your personal circumstances change.
Dressing your child in practical clothes.
Teaching your child how to put their coat on independently.
Labelling all of your child's belongings
Not allowing your child to bring toys or other belongs to Nursery unless requested by the teacher.
Remembering that children should be able to use the toilet without too much help.
Allowing your child to come into Nursery on their own. The class teacher and an LSA will be on hand to help them in the cloakroom.
Open door policy
We both have something in common: the welfare of your child.
If there is anything worrying you or your child, please do not hesitate to share your concerns with us. We hope your child will be happy and gain many worthwhile and valuable experiences from our Nursery. We look forward to working with you and your child as they start their learning journey.