Big Volunteering Fayre on Thursday 23rd January 2020, 10 – 2:00pm at Barry Memorial Hall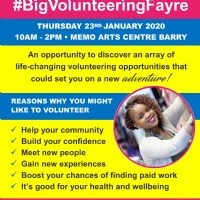 Big Volunteering Fayre
Thursday 23rd January
10 – 2:00pm
Barry Memorial Hall
We have 60 organisations with multiple volunteering opportunities available.
All attending to promote themselves, their opportunities and recruit volunteers. This is a fantastic opportunity for people to find out about volunteering and talk first-hand to the volunteer co-ordinators.
Volunteering can offer enormous benefits. You can build confidence, improve health and well-being, gain a reference, meet new people, add structure to your day, gain new skills, enhance your CV, gain practical experience.
There is also a clear link between volunteering and good health, for both volunteers and health service users. Increase volunteers' longevity, improve their mental health, keep fitter and enable to cope better with illness when it occurs, provide a sense of wellbeing.
Kindest regards
Janine
Janine Richardson
Volunteering Development Officer
Are you looking for Volunteers? Do you want help?
The BIG Volunteering Fayre
Thursday 23rd January 2020
Main Hall, Barry Memorial Hall, Gladstone Rd, Barry CF62 8NA
10am – 2.00pm
As above, Glamorgan Voluntary Services (GVS) will be hosting the Big Volunteer Fayre for charities and community projects to showcase their projects and recruit volunteers.
A fantastic opportunity for you to talk first-hand to members of the public of all ages who express an interest in volunteering.
To book and secure your space contact us for a booking form: E: enquiries@gvs.wales T: 01446 741706
http://www.gvs.wales/news/2020/01/volunteering-opportunities-galore-at-gvs-big-volunteering-fayre
Did you know GVS has a training programme? Courses start from £20, find out more
Barry Community Enterprise Centre, Skomer Rd., Barry, Vale of Glamorgan, CF62 9DA.
Tel/ Ffôn: (01446) 741706
Email/Ebost: janine@gvs.wales
Website/Gwefan: www.gvs.wales