Year 4 Home Learning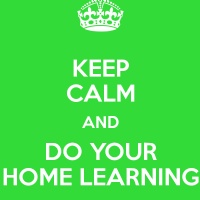 Year 4 Home Learning Menu
Year 4 Home Learning Menu
Take a look at the learning ideas menu below. Pick one at a time that you and your child would like to work on. Take your time to explore this idea and develop it into a mini project with your child. If you can, upload any work onto your hwb accounts.
Oracy

Read a story to a family member. Either to a younger brother or sister, a grown-up who needs cheering up, or why not facetime an elderly relative and read to them?

Reading

Read 10 books from https://www.booktrust.org.uk/books-and-reading/our-recommendations/100-best-books/

Maths

Learn your tables. (Year 4 children should know all your tables from 2s to 12s).

Keep practising addition, subtraction, multiplication and division (show your parents how we do it).

Learn to tell the time.

Creative

Create a sculpture of a building, an animal or object. (You can even use Minecraft for this)

Create a song/rap about something.

Draw or paint the view from your window or a portrait of a family member in the style of Picasso.

The world

When we can travel again, where would you like to visit in the world? Create a fact file about that country.

Can you include maps or charts (like we did with our extreme weather report)?

Ethical

Write a letter or email to an elderly relative or neighbour who might need cheering up at the moment.

Keeping Fit

Create a fitness routine for you and your family to do in the house or the garden to keep yourselves healthy. Do it daily! Perhaps you could share this with your friends on-line?

Wales

Aliens have landed! Create a brochure about Wales and Welsh traditions to show off our country. Can you include some welsh words?

Writing

Create a story (or even a book!)

Choose from

The Runaway Bus
A scary story (like Frankenstein)

Or make up your own!

Science/Cooking

Create your own science experiment from around the home, for example

something about our bodies?

How long does a food item last?

Upload your findings onto hwb.

Digital

Make a news report about your situation – life at home for you and your family at the moment.

Watch a film and upload a film review onto your hwb account.

Health/Wellbeing

Create a poster or leaflet informing others how to keep healthy and fit in the home.

Enterprising

Continue with your project that you were given for homework a couple of weeks ago, (a 5-minute presentation on your choice of topic). You can share with us when we are back in school.

Invention

Create a new board game and teach your family the rules.

Relationships

At this time being kind to others is so important. Can you look for ways to be kind to your family members? Fill in a chart to show what you have done.

Life skill

Learn to master a skill that you have struggled with:

Eg, tying a shoelace, learn to cook, learn a new instrument, perhaps even organise your bedroom so that it is neat and tidy every day.
Websites for Year 4 Home Learning
https://www.oxfordowl.co.uk/for-home/
https://thereadingrealm.co.uk/
https://www.education.com/resources/spelling/?referral_url=kidsspell.com
https://www.bbc.co.uk/bitesize/subjects/zjxhfg8
https://www.bbc.co.uk/bitesize/subjects/z826n39
https://nrich.maths.org/primary
https://www.topmarks.co.uk/maths-games/hit-the-button
https://www.coolmathgames.com/
http://www.primaryhomeworkhelp.co.uk/
http://www.bbc.co.uk/schools/websites/4_11/
https://world-geography-games.com/world.html
https://www.bbc.co.uk/cbeebies
https://ed.ted.com/lessons?content_type=animations&direction=desc&sort=publish-date&user_by_click=student
https://thekidshouldseethis.com/
https://www.youtube.com/user/crashcoursekids?app=desktop
If you would like access to additional resources to help support your child's learning while at home, Twinkl are offering parents free access to learning resources.
To sign-up please use the link - www.twinkl.co.uk/offer
Sign-up using the offer code – UKTWINKLHELPS
Kahoot is a great app that allows children to play competitions against each other. https://kahoot.com/