Year 4 Classes Home Learning - Menu 2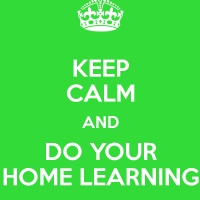 Year 4 Classes Home Learning - Menu 2
Homework Menu
Take a look at the learning ideas menu below. Pick one at a time that you and your child
would like to work on. Take your time to explore this idea and develop it into a mini
project with your child. If you can, upload any work onto your hwb accounts.
Oracy

Make up your own play with your family members. You could write out the lines, all dress up and put on a play Maybe you could video it for your relatives to watch?

Reading

Read, read, read! If you have run out of reading your books at home, have a look for books that you can read on-line.

Read a book in the most unusual place you can think of!

Writing

Keep a diary for a week. Choose which day you want to start on and write about your day, your thoughts and your feelings about your situation.

Science/Cooking

Bake something that you have not tried before. Find a recipe and help in the kitchen to make a new meal for tea.

Maths

Continue to learn your tables and to tell the time.

Design your ideal garden. Research what you would like in it, the cost of each item and the amount of space needed.

Creative

Create a picture of things collected from your garden or when you are outside on your walk. You could take a photo of your creation and upload it on our twitter account for us to see.

Digital

Create a video of a day in your life at home. Can you film yourself and your family going about their day? Make sure you ask your family's permission first!

Health/Wellbeing

Pick a favourite song of yours and make up a dance routine for it which you could use and share with your family to maintain your fitness levels.

The world

The NHS is busy keeping us well – but what can you find out about the NHS –when was it created and by whom?

Ethical

Write a letter from an animal to a human explaining how you feel about the world becoming cleaner because people are not going out and polluting it at the moment.

Enterprising

Play shops with the food items that you have in your cupboard. Could you set out a 'store' in your house and price up the tinned or packet items? Maybe your family could 'buy' things from your shop? This will be a great way to practice your money skills!

Invention

Invent a gadget or make an area to help you relax at home.

Keeping Fit

Create an obstacle course in your garden. Time yourself the first time you do it and try to beat your time the next time you have a go. Are you the fastest in your family?

Wales

Make your own mini Welsh dictionary with all the key words that you need to hold a basic conversation. You could include pictures to go with the words and brackets to show how you pronounce them.

Relationships

Share some of the ways you have been being kind to others in a story or painting

Life skill

Learn to do some tasks around the home that you will need in later life. Can you change a bed orp ut on the washing for example?