Year 3 Classes Home Learning - Menu 2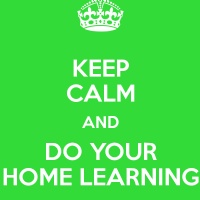 Year 3 Classes Home Learning - Menu 2
Year 3 Home Learning - Menu 2
Take a look at the learning ideas menu below. Pick one at a time that you and your child would
like to work on. Take your time to explore this idea and develop it into a mini project with your
child. We look forward to seeing your work.
Oracy

Write a short play, song or rap about your time being home, make it as funny and entertaining as possible. Put on a performance for your family or whoever you are living with.

Reading

Read 10 books from https://www.booktrust.org.uk/books-and-reading/our-recommendations/100-best-books/

Read with a family member e.g. brother or sister. Challenge: read as many different types of materials as you can think of magazines, newspaper, recipes, lists, articles, non-fiction, fiction. Also try and read in as many unusual places as possible outside and inside.

Maths

Continue to learn your tables, there are lots of websites to help you.

Become a savvy shopper and compare prices of food online. Choose the cheapest supermarket to shop at.

Practise telling the time using an analogue and digital clock.

Creative

Design and make a bug hotel for the mini beasts outside. Put it in your garden if you have an outdoor space.

Create a game that you can play in your garden or an outside area.

Create a 3D model of our solar system.

The World

Explore the five Pillars of Islam.

The holy month of Ramadam begins on the 22nd April. Research why this time is important to Muslims.

Draw a map showing the route you would take from your home to the nearest park.

Ethical

Have a debate with your family about how Covid 19 has affected the levels of pollution in the environment e.g. less aeroplanes, less car on the road, less rubbish on the roads.

Knowledge

Can you research the solar system and find out as much information you can about it.

You can create a poster/ drawing of the planets or create your own model of the solar system.

Wales

Learn the Welsh national anthem ready to sign on your doorstep.

Look up the Welsh artist Sir Kyffin Williams and re-create a piece of art in his style.

Relationships

Continue to help those around you and be kind to one another.

Can you tweet a message to your friend or teacher and let them know what you have been doing?

Life skill

Create a simple meal for your family like a sandwich or a fruit salad.

Take responsibility for a daily or weekly chore around the house.

Enterprising

Design a toy that you would like to play with if you were bored e.g. fidget spinner.

Can you create a poster with a logo and a slogan to advertise and sell it.

Invention

Create a garden/ indoor game that you can play with your family. Use things around your garden/ home to put into the game e.g. bats, balls, scoring points, bean bags etc.

Health/Wellbeing

Learn basic first-aid skills such as cleaning a cut. Or what steps you should take in an emergency.

Create a pebble game and make your own questions with your family. Remember you don't have to use pebbles- be creative!

Carry on with Joe Wicks and cosmic yoga.

Digital

Use Kahoot App to create a questionnaire for your family.

Log in to Hwb and try out the tally's, graphs and chart sections. Dwi'n hoffi hufen ia mefus? Do you like strawberry ice-cream?

Writing

Write a letter to say thank you to a key worker e.g. NHS worker, shop worker, delivery driver, teacher.

Write instructions for a game that you have made up and have played at home with your family.

Stop using a pencil and write everything and anything with pen e.g. shopping lists, notes, instructions. You have all now got your pen licenses- well done.

Science/Cooking

Take care of the plants in your house or plant a seed and nurture it as it grows.

Or choose your favourite fruit or vegetable and create a fact sheet.

Explore the sky at night and try to identify different constellations.