Channel 4's Junior Bake Off 2021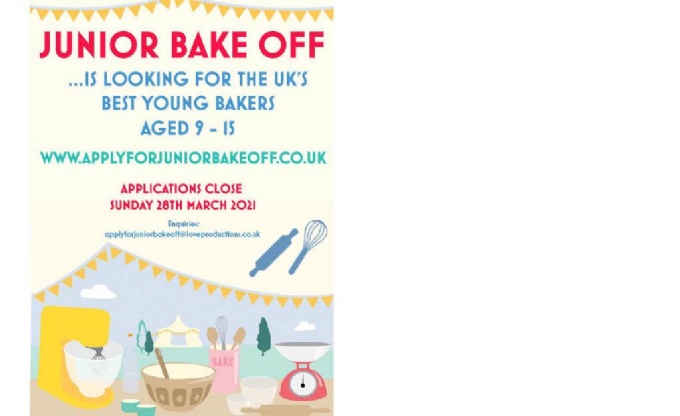 My name is Helen Welsh and I'm a Casting Researcher at Love Productions; the company behind The Great British Bake Off, The Great British Sewing Bee and The Great Pottery Throw Down.
We are delighted to say, that we have recently opened applications for the 7th series of Junior Bake Off; a Channel 4 programme that celebrates the culinary talent and ambition of the younger generation in Britain.
With this in mind, we are contacting schools in the hope that you can help us spread the word regarding this exciting opportunity
We are looking for young budding bakers between 9-15 years old.
Filming would take place from July 2021, but our applications close on Sunday 28th March 2021.
Interested bakers can apply online at - www.applyforjuniorbakeoff.co.uk
Please do feel free to contact us on 0207 067 4833, should you have any questions regarding the above.
Thank you so much for all of your help in advance!
Best wishes,
The Junior Bake Off Team
enquiries: applyforjuniorbakeoff@loveproductions.co.uk

Love Productions
Helen Welsh
Assistant Producer
15 Macklin St
London
WC2B 5NG
Tel: 0207 067 4820
Love Productions Limited is a Private limited Company registered in England & Wales at Grant Way, Isleworth, Middlesex, TW7 5QD (company number 05221898)

Disclaimer
The information contained in this communication from the sender is confidential. It is intended solely for use by the recipient and others authorized to receive it. If you are not the recipient, you are hereby notified that any disclosure, copying, distribution or taking action in relation of the contents of this information is strictly prohibited and may be unlawful.